DS4 Checkweigher Combination System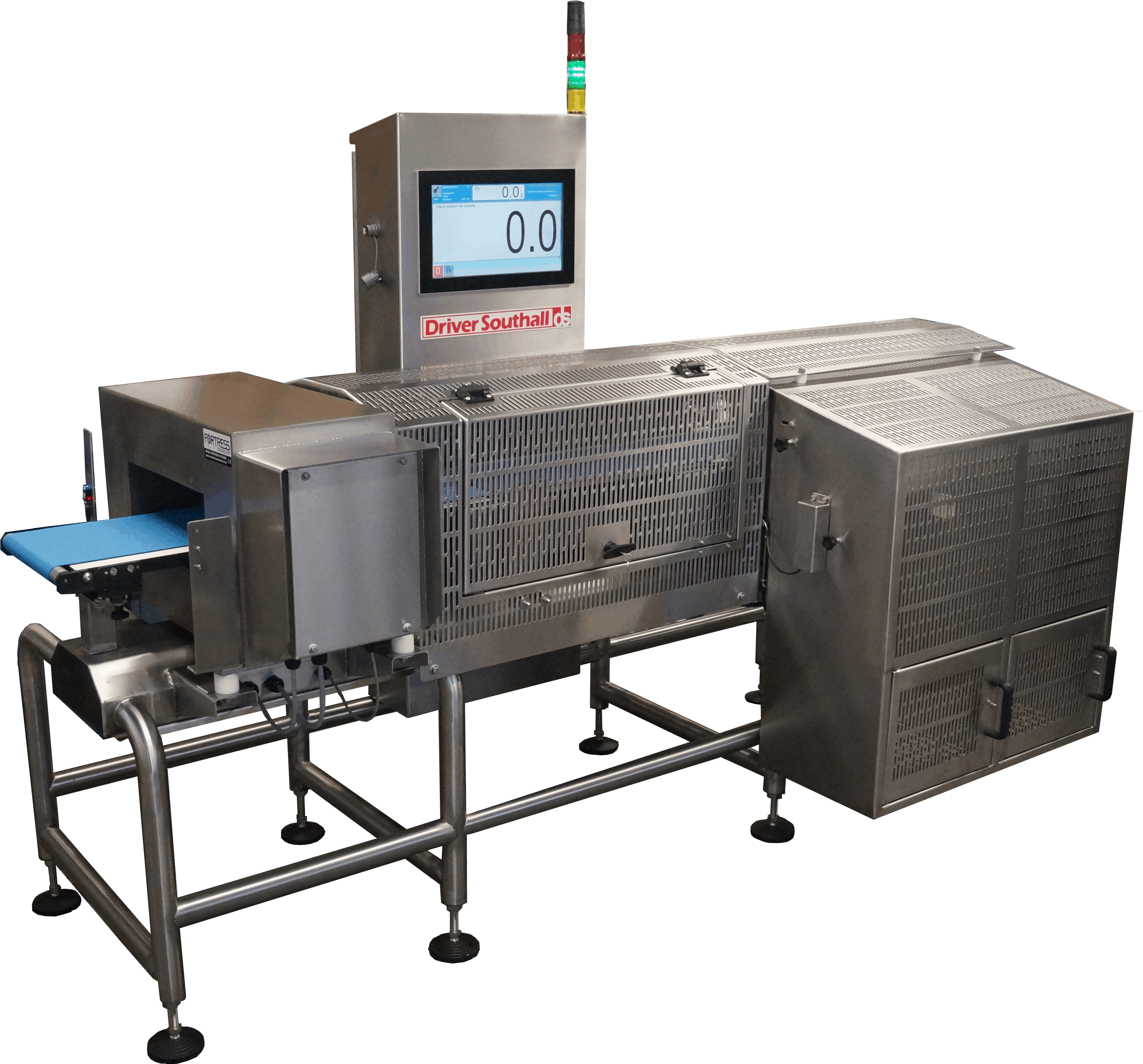 The DS4 Checkweigher Metal Detector combination system offers unbeatable checkweighing and metal detection performance. With it's hygienic design stainless steel construction and rated to IP66 it is engineered to last in even the harshest of production environments.
The DS4 Combination System has 4 Levels of password protection; Operator, Supervisor, Q.A and Engineer offering each user access to the controls that they require. All changes made on the DS4 Combination System are logged on a downloadable event log to monitor what parameters are changed on a continuous basis.
An array of statistical information is available at the touch of a button and all can be downloaded via USB and viewed on most computers; information can also be transmitted over Ethernet for collection by a factory management program
Conveyor removal is achieved easily without the use of tools. The quick release, cantilever design allows the checkweigher conveyor belts to be easily replaced in seconds; maximising line uptime without compromising machine performance.
All systems can be designed to comply with BRC and all supermarket COP's, which can be fitted at the time of purchase or retrofitted later if required. We also offer tailor-made service packages to suit each production schedule. Click here for more information on the service packages we can offer.
DS4 Checkweigher Metal Detector Combination System Overview
Compact machine design suitable for weighing products up to 3kg
Multiple conveyor configurations available to suit product size and required throughput
Tool free conveyor removal with quick release belt system
Tubular Steel frame for ease of maintenance and cleaning
Conveyor drive via low voltage brushless DC motors with digital speed control
Product library with capacity to store up to 800 products, giving fast product changeover
Automatic mean weight correction to help meet weight legislation
Pack tracking through the system
All production data archived to memory for future recall
Full, live range, fast response digital load-cell giving accurate readings whilst minimising product giveaway
15.6" Full colour, easy clean, touch-screen display with multi-level password access, presenting an array of statistical and graphic data
Error reporting/Hardware systems check
Integrated event logging for audit trail
Data output via USB port or Ethernet cable to factory management software
Retail and BRC specifications
Controlled Reject Bin Access via HMI
Reject confirmation and bin full sensors
Air pressure monitor
Pack tracking via gating photocells and integrated motor encoders
Interlocked machine covers
Audible and visual alarms via light stack
Test facility for reject and failsafe systems
DS4 Combination System Technical Specification
| | |
| --- | --- |
| Data Retrieval: | USB/Ethernet/Printer |
| IP Rating: | IP65 |
| Belt Type: | FDA Approved Elasticated PU Belt |
| Reporting: | Batch/Production/Shift/Event Logs |
| Construction: | 304 Grade Stainless Steel Frame with PET-G/Stainless Steel Cover |
| Electical: | 100v - 240v (50-60hz) 1PH/N&E 2-4A |
| Weight Range: | 20g-3000g |
| Pneumatic: | 5-8 Bar (72-120 psi) |
| Operating Tempreture: | 0 - 40 Degrees Centigrade |
| Supply Requirements: | |
Looking for a standalone check weigher? More information on our DS4 Checkweighers can be seen here 
Looking for a standalone metal detector? More information on our Metal Detectors can be seen here