We sell a range of metal detector test pieces – used in various industries to ensure the accuracy and reliability of metal detection equipment, such as metal detectors, checkweighers and x-ray inspection systems. By using our certified test pieces, companies can demonstrate their commitment to product safety and quality, providing peace of mind to both consumers and regulatory authorities.
---
Food Metal Detector Test Pieces
At Driver Southall, we stock metal detector test pieces for the food processing industries. They are designed to simulate various types of metal contaminants and are great for helping food manufacturers reduce the risk of contaminated products reaching consumers.
Choose from a variety of shapes, sizes and contaminant types – including ferrous, non ferrous and stainless steel options. All colour coded for easy visual identification. Each test piece is marked with a unique certificate number for traceability and quality control. Check out our range of products below:
Standard Test Stick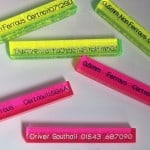 Our standard test sticks are rod-like objects and are perfectly suitable for routine checks. They are often designed to fit easily through conveyor belts and standard production lines.
Standard Test Cards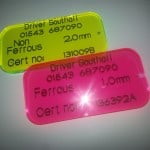 Test cards are flat, rectangular pieces – designed to simulate a flat metal contaminant, such as a piece of foil or a flat metal shard.
Standard Test Puck (30mm diameter)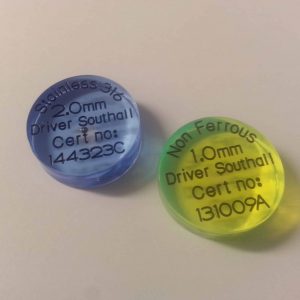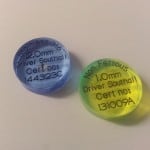 The 30mm standard test puck is a specialised metal detector test piece and is noticeably larger and bulkier compared to standard test sticks and test cards. This larger test piece is particularly useful for detecting larger metal contaminants such as bolts, nuts, or pieces of machinery that might accidentally find their way into food processing lines.
---
Acetal Test Pieces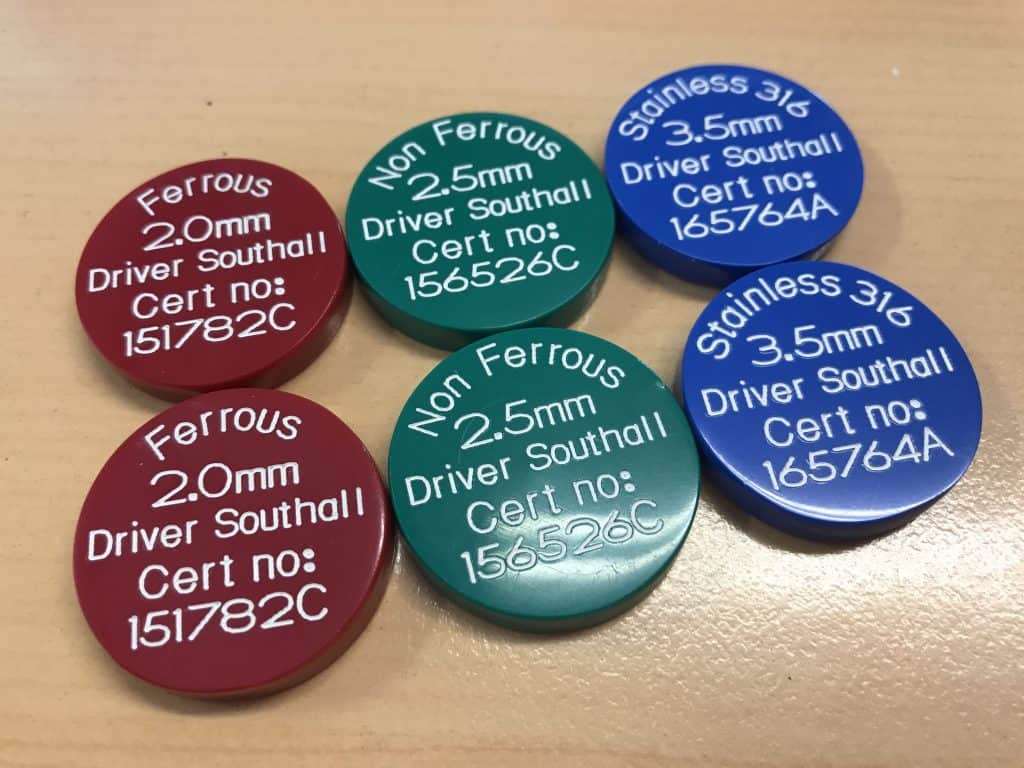 Our acetal test pieces are available as cards, pucks or wands. Various colours, shapes and dimensions can be customised and manufactured to meet your specific requirements. These acetal test cards are also FDA approved and are more resilient than acrylic versions.
---
Order Online
Please use the online form below to select the metal detector test pieces you require and we'll aim to have a quote to you in less than two hours. Don't see what you require? Contact us directly to discuss your individual requirements.