Driver Southall are experts in the design and manufacture of checkweighers in the UK. We supply checkweigher conveyor systems to the food processing and packaging industries but also offer high speed checkweighing equipment for direct and security mailing. See our full range of equipment here.
---
What is a Checkweigher?
A checkweigher is essential to any business, small or large. It's a high precision system which is used to check the weight of products during the manufacturing process on production lines.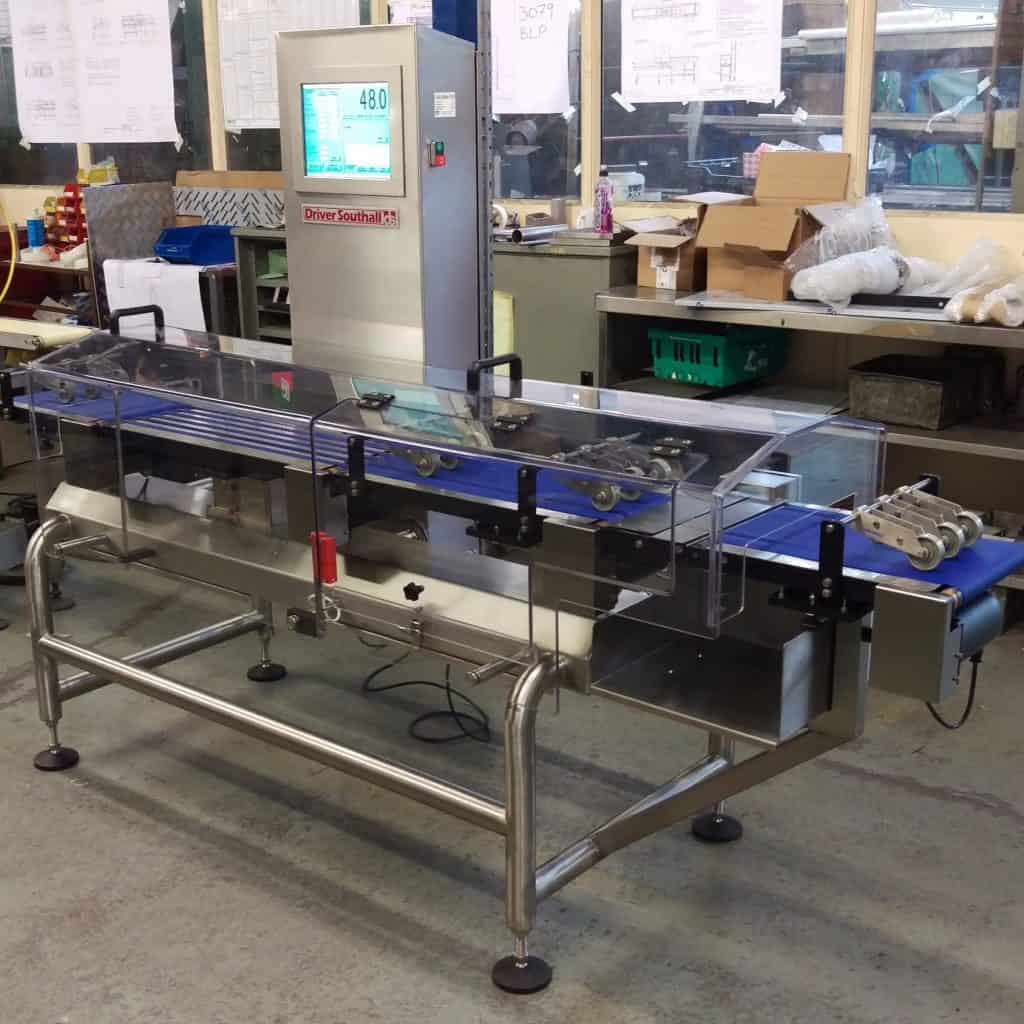 It's designed to ensure that each product meets the necessary weight guidelines, rejecting any that are outside the tolerance levels.
A checkweigher can typically weigh hundreds of items per minute, with every product leaving the production line at the correct weight. Not only does this allow manufacturers to save money, it also ensures quality control which is needed to promote brand reputation and customer satisfaction.
They can also be used with metal detectors. Checkweigher metal detector systems enable each product to be checked and acted upon accordingly.
---
Why would you use a Checkweigher in your Production Line?
– 100% Weight Inspection
– Eliminate unwanted underfills or overfills of products.
– Compliance with government regulations and industry standards.
– Avoidance of fines or other such penalties (for selling underweight products).
– Improve production efficiency.
Our checkweighers are designed with hygiene and practicality in mind. They are engineered to minimise production downtime, whilst still offering the performance and reliability we are known for.
---
Interested? – Contact us or call for a quotation today on 01543 687090.
---
Checkweighers for the UK Food Industry

We have over 100 years of experience in the food industry and can offer systems suited for almost any product. Our checkweighers are compliant with all weights and measures legislation. They can also be designed to comply with BRC and retailers individual 'codes of practice'.
Driver Southall machines are designed and manufactured in the heart of the UK. Our dedicated team of engineers aim to provide a cost effective solution that is tailored to our customers requirements. Each machine is designed to maximise up-time, whilst maintaining a low cost of ownership – all without compromising the sensitivity or accuracy of the machine.
To see our industrial checkweigher systems in action, please check out the video below which shows the inspection of trays of yoghurts.
---
We are able to offer you the perfect checkweigher system. For accuracy, reliability and total quality control – Driver Southall can supply a solution. Get in touch today!