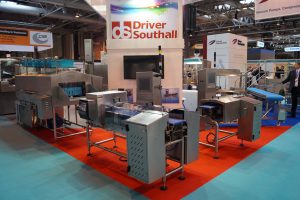 Driver Southall is an expert in the design and manufacture of checkweighers, metal detectors, combination systems and vibratory conveyors for the food packaging and processing industries; as well as offering hi-speed checkweighing equipment for direct and security mailing. Our products are designed with hygiene and practicality in mind and engineered to help minimise production downtime whilst still offering the brilliant performance we are known for.
All of our machines are designed and built in the UK by a team of engineers who aim to provide the end user with the most cost effective product maximising uptime, maintaining a low cost of ownership and purpose built for the individual requirement; whether it be for speed, accuracy or cost.
We can offer a solution for almost every product and have over 100 years of experience in the checkweighing industry with experience in working with a vast array of metal detection companies. Our machines are compliant with all weights and measures legislation and can be offered to comply with BRC & retailers individual 'Codes of Practice'.
We are able to offer an array of service packages including checkweigher calibration, metal detector validation and performance validation of checkweighers and metal detector systems.
For accuracy and reliability and total quality control Driver Southall can supply a solution , give us a call for a quotation.